Designed for the smaller more intimate function. These shows are compact in size and the smaller light show will not up-set the more sensitive guests.
The Sound System (300 watts per channel) is delivered via a pair of speakers on stands, with up to 4 lighting effects on a T Bar.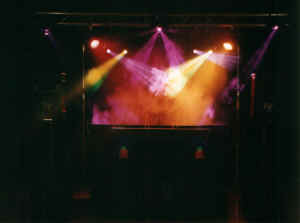 A set up time of 30 minutes should be allowed before the show starts.
Here the emphasis is on Quality rather than Scale.
Should you require further details about the above or simply wish to discuss your ideas and expectations, simply contact us.
We will Turn Your Ideas And Expectations Into Reality