This show is ideal for 50 to 150 guests and the medium size corporate function. It benefits from a "goalpost" system (whenever space allows) onto which is mounted a selection of lighting effects to both compliment and create a wonderful atmosphere. The Sound System consists of a Pair of Bass Binns, plus a pair of Mid/High cabs. (600 watts per channel)
An area of around 4 metres by 2 metres and a headroom of 2.5 metres will be required to facilitate this show.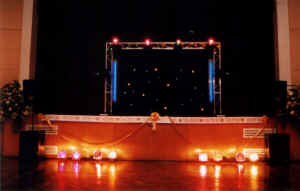 The presenter will have a minimum of 15 years experience as standard and a set up time of 45 minutes should be allowed before the show starts.
Should you require further details about the above or simply wish to discuss your ideas and expectations, simply contact us.
We will Turn Your Ideas And Expectations Into Reality