The ultimate mobile nightclub !
Imagine a Computerised Light Show suspended over the dance floor incorporating many of the effects seen in the top nightclubs. A 5 Kilo Watt Sound System from Cervin Vega finishes off the effect.
This is a show which caters for 350 to 1,000 guests. A show which is only limited by your own minds eye.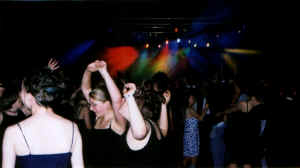 To present this truly spectacular show, a Disc Jockey with over twenty years experience, resplendent in a dinner jacket and black tie.
We will leave the rest to your imagination ! Contact us for further details.
We will Turn Your Ideas And Expectations Into Reality